GARY SINISE BREAKFAST EVENT RAISES FUNDS FOR MINNESOTA MILITARY TRIBUTE
On Monday, August 5, 2013 Gary Sinise, star of CSI: NY and movies, appeared at a breakfast event hosted by Bill and Teri Popp and co-hosted by Warren Herreid and Jeannine Rivet, that raised funds for the Minnesota Military Tribute (MFT) and the Gary Sinise Foundation. Over 50 people attended the breakfast at the Popp home in Wayzata on Lake Minnetonka. The event raised $25,000.
Gary Sinise most recently appeared as Det. Mac Taylor on CSI: NY (from 2004-2013). He is probably best known for his beloved role as Lt. Dan Taylor in "Forrest Gump," for which he was nominated for an Academy Award. Mr. Sinise now appears with the Lt. Dan Band all over the world, while helping military and their families.
The MFT will be located at the State Capitol Mall in St. Paul, Minnesota and will forever stand as a personal thank you to each spouse, significant other, parent, grandparent, sibling and any other person a soldier defines as family who provides the true foundation of support to our military personnel.   Minnesota leads the way as this Tribute will be the first ever tribute of this type built honoring military families. Ground-breaking for this monumental endeavor is scheduled for Spring of 2014, with the dedication scheduled to occur in the Fall of 2014. For additional information regarding the MFT, please visit their web page at
http://militaryfamilytribute.com/
The Gary Sinise Foundation serves our nation by honoring our defenders, veterans, first responders, their families, and those in need. They do this by creating and supporting unique programs designed to entertain, educate, inspire, strengthen, and build communities. For additional information regarding the Gary Sinise Foundation, please visit their web page at
http://www.garysinisefoundation.org/
Military Family Tribute Committee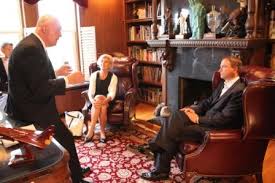 Bill Popp discusses strategy with Gary Sinise and Judy Otter
Judy Otter, Gary Sinise,
Jeff Fetters of Federated Insurance
(5 Star Level Founding Partner),
Teri Popp, and Bill Popp
Gary Sinise with Georgia and Jim Thompson
(2 Star Individual Sponsors)